nonstop eclectic cabaret
For a few weeks this old and beautiful website was out of order - no more news about neoangin . Thanks to my most faraway listener Michael from Sydney for telling me i need to fix it. what you missed was my first ever show in Thailand and the notorious xmas party in arkaoda/berlin. It took the notorious Metz brothers ( thanks guys) 2 months to fix my homepage problems but now it seems to work again, wich is good, because there is quite a few things to announce. Take a look at the shows section. Looks like I will have a busy first half of 2019. Not only there is shows in places I haven't seen in a while like the Helsinki in Zürich and the Pudel in Hamburg but i will also have some shows together with LOFI rockers art brut, because they are nice people and also because i designed the cover of their last album . Hope to see you here or there . till soon
fuck you spotify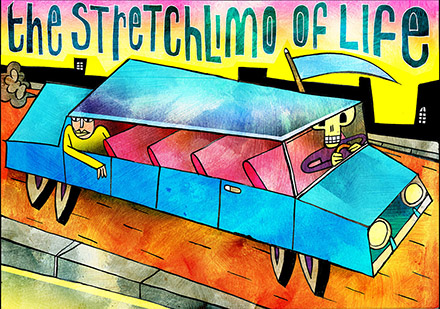 very unexpectedly to everyone here is a new neoangin minialbum. its called the stretchlimo of life. Its not on spotify and not for sale but you can hear it on "youtube" . Every once in a while one gets kissed by the muse and when it happens you have to go with the flow. I decided to release this new mini album out of the blue with just having a couple of songs half ready. there is a few sketches for an unfinished musical about turbo gentrification, some old unreleased stuff and some alternative version etc. all of this unmixed and unmastered but why not. Enjoy and see you at one of the shows…
die petersburger hängung
neoangins only song in german and the closest he ever went direction dadapop, originally written as part of an alternative audioguide and released and commissioned by the notorious STÄDEL museum in Frankfurt, it later found its way on the latest neoangin album "Highway to hello" and became popular to young parents who used it to show their kids how to really brush your teeth. 1 year later a group of lebanese kids carefully learned the words to perform it all live on the main stage of the fete de la musiq in beirut. if they can sing it, you can sing it too.... oben und unten und links und rechts, und hinten und vorne und irgendwie dazwischen....
comme ci comme ca
whenever i think i have seen it all, some funny new situation shows up .... while playing in bremen i had a support band of grumpy seniors - nobody wanted to hear their lame 50ties coverversions and when they finally got told to leave the stage, they went all angry and sabotaged my show, stole cables, unplugged the amps etc... when playing in zürich a group of of XXL punks showed up , scared the rest of the audience with freestyle pogo and in-between the songs mysterically shouting " hornhaut" chorusses. and in amsterdam there was no PA at all and i just had to shout as loud as i could...luckily there is a song for every situation. the punks got " i don't want to mess with all those freaks" and in amsterdam it was " its not easy being easy". i wonder what will happen in beirut when i play with a 30 person chorus for the fete de la music.
slave to the algorithmn. i made the designs for theses animations In the late 1990s when I suddenly was the head designer of a new cartoon show for WDR. That show had the simple and irresistible name "The ÖRKS" (which just spelled out the first letters of public children's television in German). the show was made for kids but we managed to smuggle in some media criticism as well. For two years an animation studio with 10 employees worked on these animations day and night. We had already produced more than 30 one-minute clips, when the show was suddenly cancelled after its debut. now, 20 years later finally some of these animations return to life and lets hope this is only the beginning...
a pocketfull of rainbows
Hello again. 2017 is done – welcome 2018. the last year was 1 big rush with many ( maybe too many) serious projects to work on and not enough time to be spent on all the weird stuff. I do miss the funny moments in being artist and that has to change! Now! Didn't write a new song in half a year and that has to change as well. To give myself some pressure I just announced a couple of special themed shows on the lives of famous eccentrics and I guess I better hurry and write some new weirdo material to play to that. The show are named after my favourite Elvis song "a pocketfull of rainbows" (thanks to club2 - ivi to introduce it to me) and will feature songs about Einstein, Joyce, Sun Ra, Wilde, many others and of course Elvis himself.
business as unusual
finally the slow boat of Neoangin is taking up speed again. clubs are calling and asking for shows, some even from abroad. in the next weeks you find me in a couple of interesting places , zurich, bruxelles and amsterdam among them. before that there will be a remake of that notoriuos neoangin unplugged show with jens friebe on grand piano next thursday in Urban Spree to celebrate the launch of a new coffetable dictionary mysteriuosly titled "business as unusual". in the meantime please enjoy this little video that i made on a sunny afternoon in october. birds in black and white
whats going on when nothing goes on
you people who frequently check on neoangin.info must get the feeling that there is simply just nothing going on here. the last entry was from before i had released my new album and that is already half a year ago. its true but also not. first of all i was quite busy in the last few months putting exhibitions up and down all over germany. second it was impossible to get a good video together for the new album - there were 3 good ideas but they all got lost in the process of making them and third i was a bit disappointed that there was just no reaction from the press and radios to all those beautiful handmade infos that i had sent out with my album. not to forget that it felt a bit odd to do a concept album that is critical with social media and the internet and then just return to business as usual. but like always the show must go on and behind the scenes there is interesting stuff happening. there is a couple of new shows happening soon and also a return of the unplugged show with jens friebe, and after almost 7 years there is a new who is afraid of friendly capitalism party - now that is something to look forward to....
here it is
just the same day i returned from this amazing south america tour with shows in Buenos Aires, Santiago, Quito and la Paz the copies of my new album "highway to hello" arrived as well. i was more dead than alive when i returned home because i got sick of height in La Paz and then more sick from the pills against it, ate something weird in the plane and then had shivers all the way home, so i didn't even open the boxes to see how they look like. After i spent a few days in bed things are good again but i am kind of in a rush now - record release is in less than 2 weeks already and i haven't sent copies to any radio or magazine or done the poster for the party yet. looks like its last minute jim in full effect. here is a tiny little trailer to give you a small idea how it sounds like. i am still happy with it. if you want a copy send me a mail at the usual address.
alrededor del mundo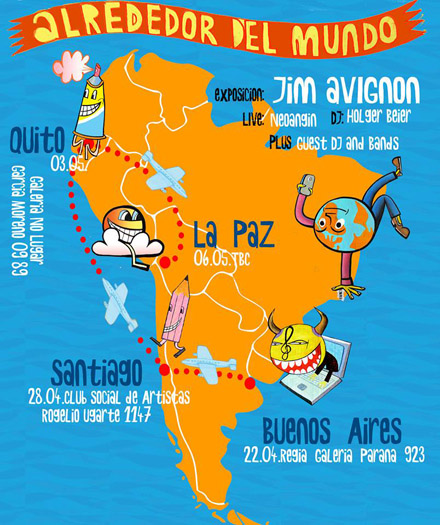 from tomorrow on i will be gone to south america for the next 3 weeks to do shows and exhibitions in argentina, chile, equador and bolivia. if you have friends or family over there please invite them to one of my events. Big thanks to holger who helped setting up these events. i haven't been in any of these countries and no idea what to expect, but i am sure its going to be a great experience. in the meantime the new album finally gets produced as both CD and vinyl, thanks to over 60 people who answered my last newsletter and convinced me to not just release digital but physical as well. i tried to make a box with 7inches of neoangin - classic, but it never worked out. just when i paid the production the company ran out of business business and gave me the money back, so i finally decided to release the new album on vinyl as well for the first time in over 10 years. There all be a recrelease party in good old Südblock over here in berlin on may 27 and i have manu louis from belgium and dj M.Bluse from the notorious tam-tam in Munich as guests. please join in
> READ ALL NEWS
> Get the newsletter
> Facebook-Page
> Subscribe to the RSS-Feed
NEW ALBUM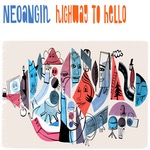 Highway to Hello
NEXT GIGS
Saturday, 13. Apr 2019
D Berlin kantine Berghain w art brut

Saturday, 13. Apr 2019
D Berlin AMAZE afternoon

Sunday, 14. Apr 2019
D Köln w art brut tbc

Wednesday, 1. May 2019
D Hamburg Pudelclub tbc

Saturday, 4. May 2019
D Hamburg Feinkunst Krüger

Saturday, 11. May 2019
D Frankfurt Museum für kommunikation

Friday, 24. May 2019
D Kulturhaus wilster

RECENT GIGS
Saturday, 23. Feb 2019
D Frankfurt Saas fee tbc

Friday, 22. Feb 2019
D Stuttgart Literaturhaus

Thursday, 21. Feb 2019
D Karlsruhe Studio 1

Wednesday, 20. Feb 2019
D Karlsruhe artfair

Saturday, 16. Feb 2019
CH Zürich Helsinki

Saturday, 26. Jan 2019
D Stuttgart - Neue Schachtel

Friday, 25. Jan 2019
D Stuttgart Galerie Schacher

Saturday, 19. Jan 2019
CH Bern Cafe Kairo

Friday, 12. Oct 2018
D Berlin Kreuzbergmuseum

Saturday, 6. Oct 2018
D Hannover Keller 3

Friday, 5. Oct 2018
D Berlin Neurotitan

Sunday, 9. Sep 2018
D Ravensburg Kunsthalle

Saturday, 8. Sep 2018
D Ulm club orange

Thursday, 6. Sep 2018
D Berlin Villa Köppe

Thursday, 12. Jul 2018
D München Atelier Empfangshalle